S For Story/10332083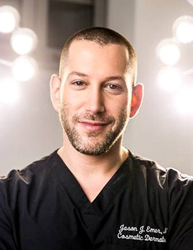 Dr. Jason Emer adds to his already-impressive reputation a brand new weight loss procedure to complement his existing full body transformation liposculpting procedures.
BEVERLY HILLS, Calif.
-
May 22, 2018
-
s4story
-- Combining trailblazing techniques and innovation with artistry, Dr. Jason Emer has built a legion of loyal patients seeking exceptional results in body sculpting and facial rejuvenation. Now, the aesthetic surgeon to whom the Hollywood and Beverly Hills elite turn to keep their amazing looks raises the bar even higher in becoming one of the world's first dermatologist to offer Obalon®, an FDA-approved weight loss treatment. What makes Obalon unique is that it implements a simple in-office procedure of a swallowable pill to help patients achieve proven weight loss safely and non-surgically.
"We are absolutely thrilled and honored to be one of the first dermatologic practice anywhere to offer Obalon," says Dr. Emer. "This supplemental weight loss system transforms not only bodies but also lives. If you're having trouble bursting through a weight-loss plateau or simply want to kickstart your weight loss journey, Obalon very well could be the boost you're looking for."
Obalon is a non-surgical, 10-minute procedure in which patients take an easily-ingestible capsule containing a balloon that is then remotely inflated inside their stomach. Without missing a beat in their daily routine, patients go about their business while the balloon slowly takes up space in their stomach so that they eat less and feel less hungry. It also indirectly jump-starts the body's metabolism for those who find it difficult to lose weight. It is an ideal method for patients wishing to supplement a diet and/or workout routine that is not producing the desired results. "In my practice we are using Obalon prior to surgery to boost the initial weight-loss before surgery, making the body sculpting and lifting surgery safer and with an even more astounding, life-changing transformation," Dr. Emer says.
More on S For Story
Watch Dr. Emer explain how the Obalon Balloon System works:
Obalon Balloon System for Weight Loss Now at Dr. Jason Emer's Practice
The Obalon Balloon Capsule
Inflating the Obalon Balloon
"What's amazing about Obalon is that it not only curbs your hunger, it also stimulates your metabolism," Dr. Emer says. "It's not meant to be a standalone weight-loss program, however, but instead a supplement to one. Additionally, patients seeking a body contouring procedure but haven't yet undergone one due to not achieving the right weight first can use Obalon to get to the weight necessary for the procedure. Better yet, it may help patients lose even more weight after their procedure. It's a truly remarkable non-surgical weight-loss option that can be added to a surgery for enhanced results."
To even further stimulate weight-loss, skin tightening and cellulite improvement Dr. Emer will combine Obalon and surgery with external radiofrequency treatments such as
BTL Aesthetics Vanquish ME™
,
Exilis Ultra™
,
Cellutone®
, Venus Concept
Venus Legacy®
as weekly or bi-monthly treatments to further enhance Dr. Emer's unique combination treatment plans.
Visit Dr. Emer's featured videos on
Instagram
to see the Obalon Balloon System in action.
Dr. Emer has a reputation for out-of-the-box ideas inspired to help patients lose weight and transform their self-esteem. His commitment to implementing Obalon along with his wide array of body-sculpting procedures is an affirmation of this. To know more about Dr. Emer, his life-changing dedication to medicine, and the options he offers to help patients achieve their goals, log on to
https://JasonEmerMD.com
.
More on S For Story
"If you've been searching for a breakthrough in your weight loss or body transformation efforts, I believe Obalon might be the answer," Dr. Emer says. "We are committed to helping you become healthier and look better with recommendations on adjusting your eating habits and keeping weight off safely and permanently. Together, we can help you achieve the healthy body and life that you deserve."
Dr. Emer on Social Media:
Facebook@JasonEmerMD
Snapchat @JasonEmerMD
Instagram @JasonEmerMD
Twitter @JasonEmerMD,
Also, visit his website
https://JasonEmerMD.com
for more information on the most advanced treatments in cosmetic dermatology and body sculpting.
For Reviews: Realself.com & Yelp.com
Contact: Media(at)JasonEmerMD(dot)com
More Information on Dr. Jason Emer:
Dr. Jason Emer's main practice and passion are liposculpture and body sculpting/etching procedures. For obtaining the best results, with the least amount of downtime, and for patient safety reasons, all procedures are performed using a local fluid called "tumescent anesthesia," which allows for a comfortable surgery with little risks. Dr. Emer uses all of the advanced technologies for body contouring/etching to tailor his results to each person's concerns, no single device or type of liposuction is used.
Dr. Emer is a leading expert in cosmetic and laser dermatology utilizing the latest advancements in non-invasive treatments for aging. He utilizes combination treatments to get the ultimate results and customizes treatments to the patient's skin type and long-term goals. His interests include acne and traumatic scars, abnormal pigmentation, burns, and anti-aging/rejuvenation combination treatments. He personally treats all his patients to ensure the best results and doesn't delegate to other staff in most instances.
Visit
https://JasonEmerMD.com
for more.
Jason Emer, MD
9201 Sunset Blvd. Suite 708
West Hollywood, CA 90069
(424) 285-5545
Media(at)JasonEmerMD(dot)com
Source: Jason Emer, MD
---
0 Comments