S For Story/10483188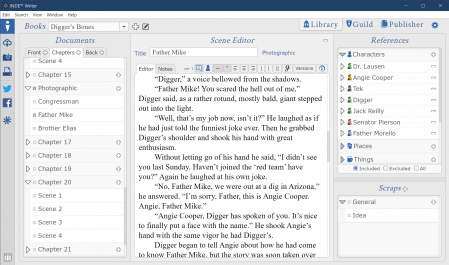 GOFFSTOWN, N.H.
-
s4story
-- The INDE Platform consists of several integrated products. The flagship product for desktop has three major modules, the Library, the Guild, and the Publisher. The product is subscription-based and has three levels of subscribers, Basic, Professional, and Ultimate.
The Library is where you write and edit books, chapters, and scenes. There is a built-in spell checker, grammar and style checker, and with the Ultimate subscription, editors and publishers can edit and comment directly within a book they've been invited to. This module includes a reference library where characters, places, and other information can be stored and referenced across all books written by the user. It also includes a scrap library so that ideas are captured within the product.
The Guild is where novelists can meet and discuss subjects related to their writing. The Guild serves as a forum for writers and a marketplace for writer services. Editors, ghostwriters, publishers, etc., can advertise their skills in the marketplace. A writer can then invite them to participate in their book.
More on S For Story
The Publisher has tools for both the independent publisher and the traditional writer. You can format the contents of your book, your table of contents, etc., and publish as a manuscript in RTF. Or publish directly to ePub files that work on Amazon Kindle and Barnes & Nobel Nook readers. You can also publish directly to HTML with a template for reading from a website.
INDE Writer includes social media promotional tools as well. You can select any of your writing and post to Facebook or Twitter and it will also add the tweet or post to the INDE Writer website linked to other posts from the author. This allows the author to keep a running library of posts that their readers can refer to.
https://INDEWriter.com
Integrated Novel Development Environment
Source: INDE Software LLC
---
0 Comments