S For Story/10432288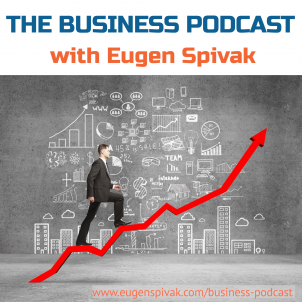 The Business Podcast with Eugen Spivak is available on all major podcasting platforms, including Apple, Spotify, Google Podcasts, and on the website at www.eugenspivak.com/business-podcast
TORONTO
-
s4story
-- As more and more businesses and individuals are facing economic uncertainty and devastating impacts of the current economic climate, making solid business choices is more important than ever. To help business owners, business leaders, and individuals in these uncertain times, multi-award-winning business author, strategist, and business coach Eugen Spivak launches The Business Podcast.
During his coaching career, Eugen Spivak taught, consulted, and coached more than 10,000 individuals and companies.
Eugen's business strategy book "
PMO Governance: Practical Strategies to Govern Portfolio, Program, and Project Delivery
" won 9 book awards and became a corporate governance bestseller. "PMO Governance" is a practical guide that helps companies maximize benefits, and improve how they deliver the business strategy.
More on S For Story
The Business Podcast with Eugen Spivak reflects upon common pitfalls that Eugen's clients were experiencing. It helps the listeners avoid costly business mistakes - both in their businesses and in the corporate world. The Business Podcast is about starting a business, improving, and growing your business from a business coach's perspective.
The listeners will find practical tips to enhance their business acumen and competencies. With the tips and strategies covered in The Business Podcast, the listeners will be able to increase your business profitability and achieve more with the resources at their disposal. Business owners and leaders will find a shorter and more optimal path to achieve their business objectives.
The future episodes of the Business Podcast with Eugen Spivak will explore crucial business topics of critical importance to any modern business leader. Such topics will include entrepreneurship, business strategy, innovation, creativity, competitive advantage, digital marketing, etc.
New episodes launch on Thursdays @ 5:00 PM EST. The Business Podcast with Eugen Spivak can be heard on major podcast platforms, including Apple, Spotify, and Google Podcasts.
More on S For Story
To learn more, and to hear existing episodes of The Business Podcast with Eugen Spivak, stop by
https://eugenspivak.com/business-podcast
About Eugen Spivak
Eugen Spivak is a multi-award-winning author, strategist, and business coach. For more than two decades, he has been providing management consulting and advisory services and coached business leaders from Fortune 100 to Small and Medium Enterprises. Eugen's recommendations and leadership enabled companies to execute strategies, achieve efficiencies, and increase revenues by hundreds of millions of dollars.
Eugen is the founder of the
Canadian Institute of International Business
, an organization dedicated to bringing practical and hands-on business education for modern business leaders.
You can follow Eugen on social media @eugenspivak and connect with him on LinkedIn at
https://www.linkedin.com/in/eugenspivak
Find out more about Eugen Spivak, visit
www.eugenspivak.com
Source: Canadian Institute of International Business
---
0 Comments