s4story/10321835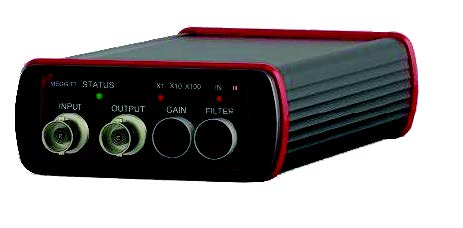 IRVINE, Calif.
-
March 21, 2018
-
s4story
-- Meggitt Sensing Systems, a division of Meggitt PLC, has released the upgraded
Model 4416C
signal conditioner for use with IEPE transducers. The compact size, low weight (13 oz) and 8 hours of internal lithium battery power make it ideal for use in low channel count test applications where AC power is not available. The
4416C
has three user-selectable gain settings of 1, 10 and 100.
The connected sensor itself is powered with constant current while the
4416C
LED status indicators inform users of a short, open circuit or normal operating condition. End users will also appreciate the inclusion of a Sallen-Key low pass filter that excludes frequencies above 10 kHz. This enables delivery of an extremely low noise performance for low level vibration measurements.
More on s4storyKey features include:
• 100KHz bandwidth allows for usage in a wide variety of applications
• Sallen-Key filter for low pass filtering
• Selectable gain settings of 1, 10 or 100 maximizes compatibility with transducer outputs
• LED indicators for status monitoring
This device is RoHS and CE compliant and shipped with a 12 Vdc universal power supply with adapters for use worldwide.
For more information on all Endevco products or to buy online, visit
www.endevco.com
. For full details on all Meggitt Sensing Systems products visit
www.meggitt.com/mss
.
###
About Meggitt Sensing Systems
Meggitt Sensing Systems, a division of Meggitt PLC, is one of the world's leading providers of high performance, extreme environment sensing, monitoring, power and motion systems. It specializes in designing products to operate under harsh and demanding conditions. It has operated through its antecedents since 1852 – ECET, Endevco, Ferroperm Piezoceramics, Lodge Ignition, Negretti & Zambra, Sensorex and Vibro -Meter. Today, their capabilities and facilities have been integrated under one Meggitt to provide complete systems from a single supply base.
Source: Meggitt Sensing Systems
---
0 Comments