S For Story/10397281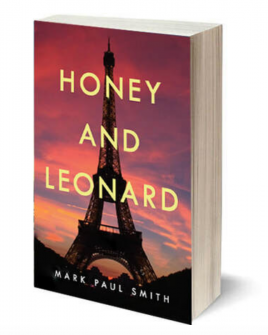 Lovers in their seventies run away from the world to discover why it is more important to love than be loved.
CHRISTIANSBURG, Va.
-
s4story
--
Honey and Leonard -
Mark Paul Smith. BQB, $16.95 trade paper (342p) ISBN 978-1-945448-47-8
Smith (
Rock and Roll Voodoo
) takes on the topic of love in one's twilight years in this uplifting tale. Widow Honey Waldrop and widower Leonard Atkins begin the novel happily in love despite Leonard's battle with the early stages of Alzheimer's and his scheming niece Gretchen's insistence that she keep power of attorney over him. But when Leonard's blood work shows an unusually high level of arsenic, Honey becomes a person of interest for allegedly poisoning him. The couple flees the law in favor of a romantic trip to Paris, insisting that the arsenic is from Leonard's years of working with pesticides on farms, and their story becomes international front-page news, billed as "the Bonnie and Clyde of love." Their love grows as they navigate newfound fame, failing health, and a foreign city; memory lapses and greedy heirs vying for inheritance money add depth. Though the prose is somewhat stilted, the premise is refreshing enough to keep readers engaged. Smith imbues his story of elders in love with plenty of rakish charm.
More on S For StoryPublishers Weekly

About the Book
Honey and Leonard are in their seventies when they fall in love. Leonard is in the early stages of Alzheimer's and Honey thinks her love will cure him. When their heirs try to keep them apart, they flee to France in violation of court orders.
Pursued by police, press, and private investigators, they become an international media sensation. In a time just before cell phones and the Internet, they become the Bonnie and Clyde of love. Their whirlwind romance encompasses arsenic poisoning, elder law, Alzheimer's, an Eiffel Tower arrest, and a Paris jail break. Through it all Honey is in the middle of the difficult process of discovering that love does not conquer all. Or does it?
About the Author
Mark Paul Smith is the author of
Hitchhike
and
Rock and Roll Voodoo
. After an around-the-world hitchhike, he became a newspaper reporter and then played in a rock band on Bourbon Street and on the road. He has been a trial attorney since 1982.
More on S For Story
Mark and his wife, the artist Jody Hemphill Smith, own Castle Gallery Fine Art in Fort Wayne, Indiana.
For more information head to:
https://bqbpublishing.com/honey-and-leonard-by-mark-paul-smith/
Source: BQB Publishing
---
0 Comments