S For Story/10429945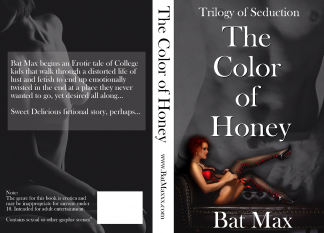 Get Your Kindle eBook Today 'The Color of Honey'
The First in a Debut Erotic Novel Series - Trilogy of Seduction

Pre-Order Available: August 1st, 2020
BLOOMINGTON, Ind.
-
s4story
--
The Color of Honey
The First book in a Debut Erotic Novel Series by Bat Maxwell on KDP
A young adolescence swimmer from North Carolina is recognized as an Olympic Level Swimmer when he arrives at the Bloomington Indiana campus. His arrival will become a baptism by fire education in adulthood all the way through graduation.
We pick up this tale of a couple College kids that will walk through a distorted life of both pleasure and pain to end up twisted in the end. A place they never wanted, yet desired all along. Objectified or Participant, the sensual women of his life will teach him new skills in eroticism, servitude and taboo pleasures.
More on S For Story
His graduation will come with accolades. The success he so wants to create on his own will manifest. Unfortunately, moral values will be place upon a shelf. The addictive behavior, the obsessive hunger for flesh and riches will grow friendships and trust gathered up like trinkets. Women will walk into his life begging for his attention, with or without his current Lover's verification. Yet others, invited. Sexual Fantasy's will be claimed with the innocence of discovery. Some will explore fetish and limits beyond the normal boundaries.
Ultimately, these Lovers have walked into their own separate dens of iniquity. Given in descriptive and graphic detail, this story will stimulate your senses of sight, taste and scent. Each character is fully aware of the risk; their journey will set them up for a taste of their own medicine, a tart flavor of justice that neither is willing to pay, yet….
Website LINK:
Bat Max - www.batmaxxx.com
Source: Bat Maxwell, Author
---
0 Comments