S For Story/10433249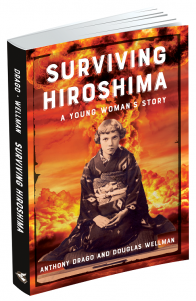 The book is co-written by Kaleria Palchikoff's son, Anthony Drago and Douglas Wellman, and heavily based on quotes from Kaleria's memoirs written immediately after World War II, and transcripts of United States Army Air Forces interviews with her. It is an emotional, sometimes chilling story of courage and survival in the face of one of history's greatest catastrophes.
LOS ANGELES
-
s4story
-- From Russian nobility, the Palchikoffs barely escaped death at the hands of Bolshevik revolutionaries until Kaleria's father, a White Russian officer, hijacked a ship to take them to safety in Hiroshima. Safety was short lived. Her father, a talented musician, established a new life for the family, but the outbreak of World War II created a cloud of suspicion that led to his imprisonment and years of deprivation for his family.
Then, on August 6, 1945, 22-year-old Kaleria was doing pre-breakfast chores when a blinding flash lit the sky over Hiroshima, Japan. A moment later, everything went black as the house collapsed on her and her family. Their world, and everyone else's changed as the first atomic bomb was detonated over a city.
After the bombing, trapped in the center of previously unimagined devastation, Kaleria summoned her strength to come to the aid of bomb victims, treating the never-before seen effects of radiation. Fluent in English, Kaleria was soon recruited to work with General Douglas MacArthur's occupation forces.
ABOUT THE AUTHORS:

Anthony "Tony" Drago
was born in Camden, New Jersey and spent much of his early childhood at his paternal grandparents Italian grocery store. From a young age, his mother, Kaleria Palchikoff Drago, would tell him the captivating story of her journey from Russia to Japan and then to the United States. It created Tony's foundation for his love of history—especially his family's history—bringing him to write this book.
More on S For Story
After retiring in 2006, Tony doubled down on his passions—flying his airplane, restoring his classic car, and traveling the world with his wife, Kathy. Tony and Kathy have been married for forty-five years. They have three adult children and enjoy spending their days on the beach in their hometown of Carmel, California with their eight grandchildren and dogs, Tug and Maggie. For more information about Kaleria and the book, visit
http://www.survivinghiroshima.com
Douglas Wellman
was a television producer-director for 35 years, as well as dean of the film school at the University of Southern California. He currently lives in Southern Utah with his wife, Deborah, where he works as a chaplain at a local hospital when he isn't busy writing books.
For more information on Doug and the books he has written, visit his website at
http://www.douglaswellmanauthor.com
SURVIVING HIROSHIMA
280 pages
Softcover: $15.95; ISBN: 978-1-60808-236-0
E-book, $7.49
Author Websites:
http://www.survivinghiroshima.com
http://www.douglaswellmanauthor.com
Publication date: September 1, 2020
Social Media::
https://www.facebook.com/survivinghiroshima/
More on S For Story
https://twitter.com/intent/tweet?text=Home&url=https%3A%2F%2Fsurvivinghiroshima.com%2F
Published by Boutique of Quality Books Publishing Company, Inc.
Publisher Websites:
www.bqbpublishing.com
www.writelife.com
Distributor Websites: IPG www.ipgbooks.com
Available at Amazon:
https://www.amazon.com/Surviving-Hiroshima-Youn...
Apple:
https://books.apple.com/us/book/surviving-hiros...
barnesandnoble.com:
https://www.barnesandnoble.com/w/surviving-hiro...
Source: The Barrett Company, LLC
---
0 Comments