S For Story/10564349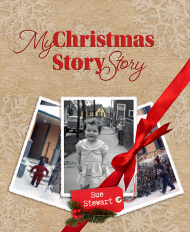 A Christmas Story; Never-before-seen photos and never-before-told stories collected by a woman whose own childhood neighborhood was recreated for the big screen one snowy Cleveland winter.
LAKEWOOD, Ohio
-
s4story
--
Sunny Day Publishing, LLC
is pleased to release
My Christmas Story Story
, by Sue Stewart
Imagine if an iconic movie was filmed a few doors down from the house you grew up in, in a house you played in throughout your childhood and partied in as a teen. Author Sue Stewart tells what it was like when
A Christmas Story
was filmed on her old street, where her brother Jim was still living. The filming was a neighborhood endeavor, with Sue's friends and family— even her young daughter! snagging parts as extras in the movie.
More on S For Story
Sue Stewart is a life-long Clevelander. After retiring from a career as an Executive Secretary, she and her husband Bob became world travelers. Days before her brother Jim passed, Sue promised to share the cherished stories and personal photos they collected while
A Christmas Story
was filmed on their street. This book fulfills that promise.
Sue will be signing her book at
A Christmas Story House and Museum
, November 25 & 26, 2022, 10:00 AM - 3:00 PM. Books will be available to purchase at the museum gift shop.
Source: Sunny Day Publishing, LLC
---
0 Comments