S For Story/10554793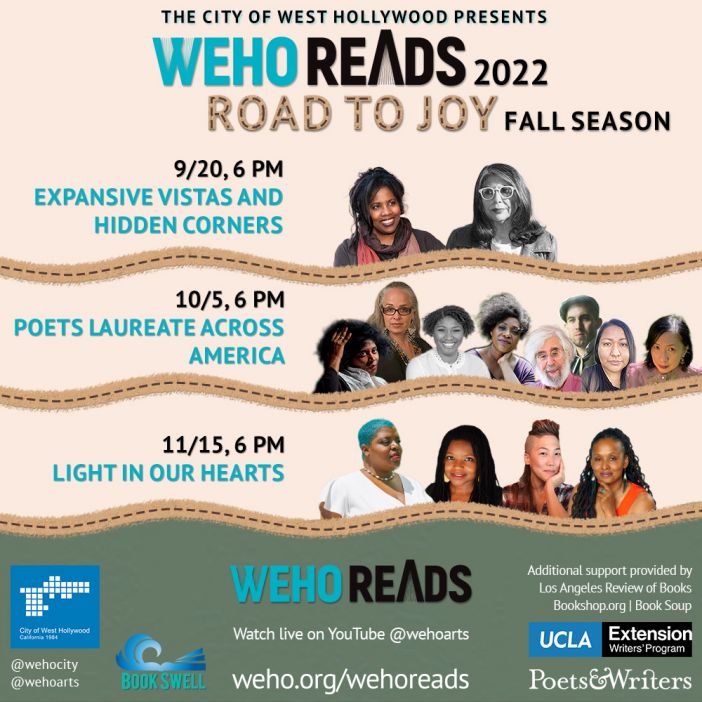 Following a successful start to the City of West Hollywood's 2022 WeHo Reads literary series produced by BookSwell, literary organizations and community groups are increasing their support for local authors sharing their words with the community throughout the fall season.
WEST HOLLYWOOD, Calif.
-
s4story
-- Following a successful start to the City of West Hollywood's 2022 WeHo Reads literary series, sponsors and partners are increasing their support throughout the fall season. The theme for this year's WeHo Reads series, which is being produced by
BookSwell
, a literary events and media company, is
Road to Joy
. Guest poets and authors are discussing how they create joy in their writing and lives and inviting readers to find their own paths to healing and contentment. Events in the series include moments of guided meditation, art appreciation, writing prompts, a photography contest, and other creative projects.
BookSwell
executive editor
Cody Sisco
says that he intended the Road to Joy series to be both a community-led initiative and a memorable gathering of Southern California-based writers and poets. Participating writers have been inspiring their audiences to seek joy in troubled times both before and during the coronavirus pandemic. Sisco says, "It's been inspiring to see the community come together in support of the writers featured in this series."
In addition to the resources dedicated by the
City of West Hollywood
to produce the series and provide honoraria for the participating writers, Sisco points to a sponsorship by the
UCLA Extension Writers' Program
. "Publishing is not a financially sustainable endeavor for most writers so creating income streams from literary events is vital to the health of our literary community," Sisco says. "Thanks to the additional support of the UCLA Extension Writers' Program, BookSwell is providing larger honoraria and reaching a wider audience."
More on S For StoryCharlie Jensen
, the director of the program, says, "The UCLA Extension Writers' Program is proud to support WeHo Reads and in particular the vibrant writers who appear in the events. Like BookSwell, we are committed to supporting literary community and helping writers feel connected to one another and to their audiences."
Additional support for individual events and participating writers has also been a boon. For example,
Beyond Baroque
sponsored the first event, which featured
Shonda Buchanan
,
Peter J. Harris
, and
Imani Tolliver
, all of whom have worked for decades to grow and support the Los Angeles literary community.
Poets & Writers
provided additional support for individual participants through the organization's Readings & Workshops mini-grant program, which has provided fees to writers for over fifty years.
Jamie Asaye FitzGerald
, who is Director of the California Office and Readings & Workshops (West) for Poets & Writers, says, "As an organization with a mission to foster the professional development of poets and writers, to promote communication throughout the literary community, and to help create an environment in which literature can be appreciated by the widest possible public, Poets & Writers is a proud supporter of WeHo Reads events."
Other pillars of the local literary community are providing in-kind support.
The Los Angeles Review of Books
(LARB), which publishes book reviews and essays and organizes an annual publishing workshop that helped inspire Sisco to pursue his ideas for BookSwell, is sharing information about the events with their audience. LARB Executive Director
Irene Yoon
says, "LARB is dedicated to fostering vibrant literary conversations in our pages and local community alike. We're thrilled to support the WeHo Reads series."
More on S For Story
Booksellers are also partnering with BookSwell.
Book Soup
, a local independent bookstore in West Hollywood, is making copies of participating writers' books available both for in-store shopping and online. And
Bookshop.org
, an online bookstore that launched during the pandemic to support independent bookstores across the country, is a media partner as well.
The next WeHo Reads event is
Expansive Vistas and Hidden Corners
on Tuesday, September 20, 2022, at 6 p.m. Artists and writers explore concepts of places, how they're made, and how we understand, remember, and memorialize them.
Lynell George
is a journalist and essayist based in Los Angeles, who tells the city's story one sentence at a time. Her book,
After/Image: Los Angeles Outside the Frame
(Angel City Press 2018), is an exploration of the city in text and photography, and she explores the extraordinary creative life of Octavia E. Butler in A
Handful of Earth, A Handful of Sky
, published by Angel City Press in 2020. She will be in discussion with
Marisela Norte
, an American writer, poet, and artist living in Los Angeles and known for poetry that explores the unseen city, including her poetry collection
Peeping Tom Tom Girl
(Sunbelt Publications 2008). Together, they will explore hidden corners of Los Angeles and the poetry of the city in images and text.
For more information, please visit
www.BookSwell.Club
.
BookSwell is a literary events and media production company dedicated to connecting readers and writers in Southern California and beyond. Through events, media, and partnerships, BookSwell makes the book scene easier to navigate, introduces readers to new writing, and weaves together digital and real-life literary experiences. BookSwell was founded in 2017 by Cody Sisco with a mission to amplify the voices of Black writers, Indigenous writers, and writers of color alongside LGBTQ+, female, nonbinary, and indie writers.
Source: BookSwell
---
0 Comments