S For Story/10492821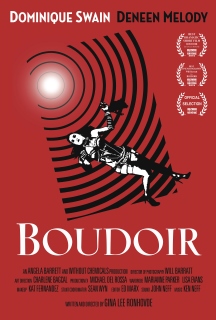 BOUDOIR is part of the launch of HollyShort Film Festival's Premium AVOD short film streaming platform Bitpix
BEVERLY HILLS, Calif.
-
s4story
-- BOUDOIR, an award winning psychological thriller by writer/director Gina Lee Ronhovde, is now streaming on Bitpix which features the world's best short films. The Platform is available now in the following stores and online at
https://bitpixtv.com/
Android
Android TV
Apple TV
Fire TV
iOS
Roku
BOUDOIR won the People's Choice Award for Best Short Film by popular vote at the Hollywood Reel Independent Film Festival (HRIFF) 2015, and also won Best Dramatic Short Film and Best Cinematography. It was nominated for Best Music at the Chicago Horror Film Festival and won the Award of Merit at the 2016 Best Shorts Competition.
About BOUDOIR:

BOUDOIR
is a psychological horror short starring
Dominique Swain
(LOLITA, FACE/OFF, ALPHA DOG) and
Deneen Melody
(THE PLAYBOY CLUB, ROSE WHITE). Directed and written by Gina Lee Ronhovde. Cinematography by Will Barratt (FROZEN, HATCHET I&II), edited by Ed Marx (SWIMMING WITH SHARKS, JEEPERS CREEPERS) with sound & music by John Neff (THE STRAIGHT STORY, MULHOLLAND DRIVE). Synopsis: A mysterious client psychologically tortures an agoraphobic photographer during a routine boudoir photography session, escalating into a battle to stay alive.
More on S For StoryAbout Gina Lee Ronhovde:
Gina Lee Ronhovde is a diverse and uniquely talented filmmaker who graduated with honors from the Los Angeles Film School. Her education and experience has never stopped, working in Hollywood for more than a decade. Current screenplays in development include, Family Reunion, a Meet the Royal Tennebaums / Meet the Parents unique tale of a family set in rural Minnesota where four estranged siblings and their families reunite for a dysfunctional family reunion during their hometown celebration of "Tingvold Days," and the screenplay, Cult Fan, which follows a teen runaway obsessed with a cult TV show, hitchhiking to LA for a fan convention and winning a trivia contest. Isolated in a Hollywood Hills mansion Sunny slowly becomes tortured by evil forces as she uncovers horrifying secrets.
Follow Gina Lee Ronhovde on Twitter @ginaleeronhovde
Source: Gina Lee Ronhovde
---
0 Comments