S For Story/10579677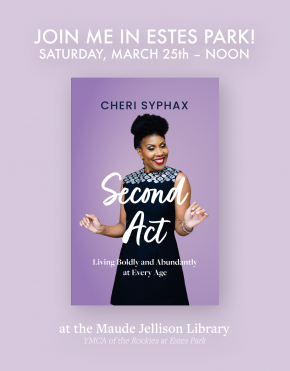 The New York Times Featured Couple and Authors of the Books, "Second Act: Living Boldly and Abundantly at Every Age," and "From the Block to the Boardroom," Will Do A Book Reading and Signing Event at the Maude Jellison Library of the Estes Park Center on Saturday, March 25th at Noon
ESTES PARK, Colo.
-
s4story
-- The YMCA of the Rockies will host New Jersey-based Authors and Famed Couple, Cheri and Tracey Syphax, in celebration of Women's History Month. This event presented by the YMCA of the Rockies continues to highlight their programming that is rooted in Diversity, Equity, and Inclusion and supports the organization's overall goal to make the outdoors more accessible. Specifically, Mrs. Syphax will do a book reading and signing to promote her new autobiography, "Second Act: Living Boldly and Abundantly at Every Age," in the Library of the Estes Park Center on Saturday, March 25, 2023, at Noon. The event is Free and open to the Public.
More on S For Story
Cheri and Tracey Syphax have been featured in
The New York Times
,
Oprah Daily
,
Essence
,
Forbes
,
Philadelphia Magazine
, and on
ABC's 20/20
and
BET Digital
. Mrs. Syphax is a wife, mother, marketing executive by day as well as a dating coach and host of the "Leader and Lover" podcast by night. Mrs. Syphax is also a breast cancer survivor. Moreover, Mrs. Syphax is passionate about showcasing the magic of Black women, Black love, and seeks to demystify the stereotype that Black women cannot have it all. An advocate for doing the inner self discovery work and being open to the power of healing, Mrs. Syphax is living proof that Black women can have it all and do it with style, class, and grace. She lives in New Jersey with her husband, Tracey Syphax, a successful business entrepreneur, and award-winning author of the book, "From the Block to the Boardroom." Together, they are also the new owners of the beloved West Philadelphia bistro, Booker's Restaurant & Bar.
More on S For Story
At the Women's History Month event on March 25th, Mrs. Syphax will read from her new book, "Second Act: Living Boldly and Abundantly at Every Age." In the book, Mrs. Syphax works to empower Black women to find their true soul mate with the goal to have a long-lasting relationship. Her narrative removes the disparaging notion that you need to have it all figured out by a certain age and serves as a reminder that everyone is on their own journey. The book is also a testament that it is never too late to revitalize your love life, social circle, or career. By following her heart's desire and opening herself up to new possibilities, Mrs. Syphax was primed for true love to walk into her life. Rejecting the notion that the best years for romance and professional success are behind her, Mrs. Syphax illuminates in the book the notion that no matter how many times it takes to design your best life, the greatest part is the journey and lessons gained along the way.
For more information on the YMCA's Women's History Month event, visit
https://ymcarockies.org/
Source: L.A.I. Communications
---
0 Comments