S For Story/10599322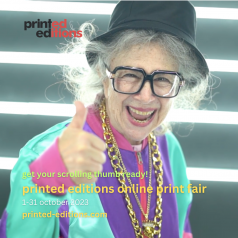 The world's first online art fair dedicated to fine prints. 1200 prints, 500 years of printmaking, 30 exhibitors, 1 month's long art fair.
LONDON
-
s4story
-- The art world is set to experience a revolutionary event this October as "
Printed Editions Online Print Fair
" (PEOPF) makes its debut. In a groundbreaking move, this virtual art fair brings together 30 esteemed exhibitors to present a stunning array of 1200 artworks spanning five centuries of printmaking. This unprecedented event promises to be a treasure trove for art enthusiasts, collectors, and connoisseurs.
Diverse and Timeless Collection
PEOPF celebrates the rich history of printmaking, offering a curated collection that traverses the evolution of this art form. From classic woodcuts and etchings to contemporary digital prints, visitors will have the opportunity to explore the fascinating journey of printmaking across different periods and styles.
Accessibility and Convenience
Taking place entirely online throughout the month of October, the Printed Editions Online Print Fair offers accessibility and convenience like never before. Art aficionados from around the world can access the fair from the comfort of their homes, making it possible for a global audience to engage with this diverse selection of art.
More on S For StoryMeet the Exhibitors
PEOPF brings together 30 renowned exhibitors, including galleries, print dealers, and independent artists, who have carefully curated their collections to showcase the best of printmaking. Visitors will have the opportunity to engage with the exhibitors directly, gaining insights into the history, techniques, and stories behind each artwork.
Highlighting the Uniqueness of Printmaking
Printmaking has always held a special place in the art world due to its unique nature, enabling the creation of multiple original works. The Printed Editions Online Print Fair is a testament to the enduring appeal and innovation within the world of printmaking.
Save the Date
The "Printed Editions Online Print Fair" promises to be a milestone event in the art calendar, celebrating the legacy and future of printmaking. Save the date and prepare to embark on a journey through five centuries of artistic excellence this October.
Event Details:
Event Name: Printed Editions Online Print Fair (PEOPF)
Date: October 1st - October 31st 2023
Website: printed-editions.com
Source: Printed Editions
---
0 Comments