S For Story/10570942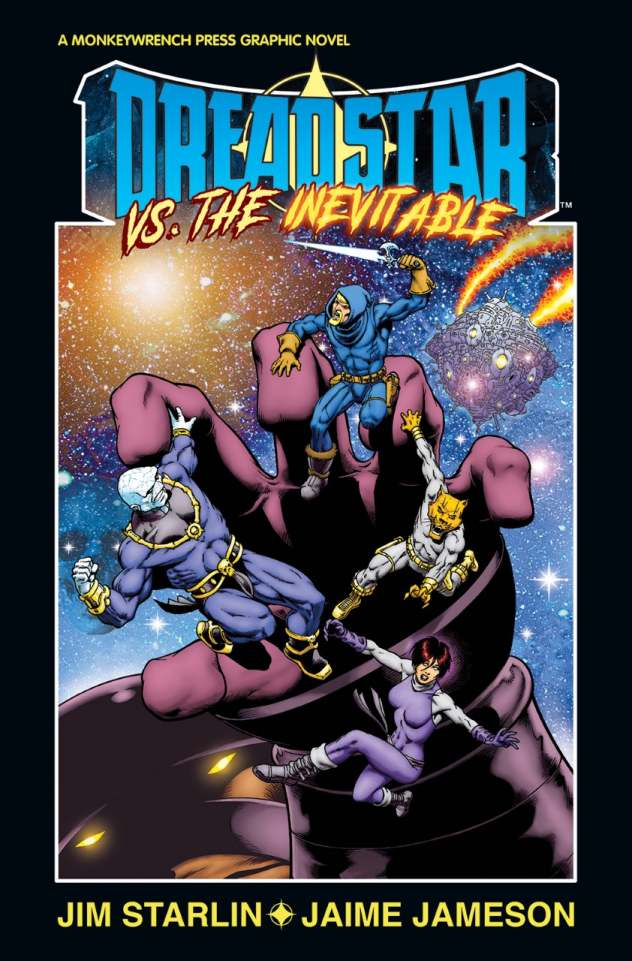 As the New Year arrives, so too does a new publisher of comics, graphic novels, and art books. Monkey Wrench Press launches this month, debuting with a new original graphic novel by comics legend Jim Starlin.
NIAGARA FALLS, N.Y.
-
s4story
-- Monkey Wrench's first project is the original graphic novel
Dreadstar vs. the Inevitable,
continuing Jim Starlin's acclaimed Dreadstar science-fiction saga. The legendary Starlin, creator of Thanos and the Infinity Gauntlet, as well as numerous other characters that have appeared in the Marvel Cinematic Universe, is writing and drawing the graphic novel. A Kickstarter campaign for the
Dreadstar vs. the Inevitable
hardcover will launch this month. The complete graphic novel has already been written and drawn.
Monkey Wrench will partner with established creators as well as new talent to present bold, original content in a range of formats. Monkey Wrench Publisher Chris Scioli has experience in both comics retail and publishing, as well as being Co-Founder/Director of the successful Buffalo Dreams Fantastic Film Festival. Scioli also boasts extensive background in customer experience, operations management, sales, and digital marketing, including Hearst Media.
More on S For Story
Joining Scioli as advisors to Monkey Wrench are industry veterans Ron Marz and Keith Champagne, who have more than 50 years of combined experience in the comic industry.
Marz is an acclaimed writer with credits ranging from his acclaimed
Green Lantern
and
Silver Surfer
runs to the landmark
Marvel vs. DC
crossover,
Star Wars
,
Witchblade
, and many others. Marz also has years of editorial experience for both U.S. and international publishers. Champagne has been an artist, writer and editor on titles including
Superman
,
JSA
, and
Green Lantern
, as well as his creator-owned superhero epic
The Mighty
. Champagne has also led numerous successful crowdfunding campaigns.
"Monkey Wrench Press was founded on two goals," Scioli said. "First, we want to build a brand that produces world-class comics, graphic novels, and other media across a range of genres for diverse audiences. Second, we're going to work with creators in transparent and collaborative partnerships."
More on S For Story
Look for more news on Monkey Wrench Press, Jim Starlin's
Dreadstar vs. the Inevitable
, and future projects soon.
https://twitter.com/MonkeyWrenchPRS
https://www.facebook.com/MonkeyWrenchPress
https://www.instagram.com/monkeywrenchpress
Source: Monkey Wrench Press
---
0 Comments