S For Story/10409576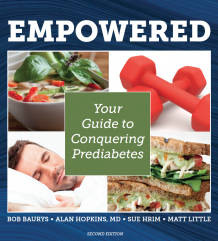 - EMPOWERED: Your Guide to Conquering Prediabetes
- Now in paperback edition for personal guidance
- A comprehensive resource guide to help readers take control of their health and stop the progression of prediabetes
AUSTIN, Texas
-
s4story
--
Bob Baurys
and co-authors
Alan Hopkins, MD
,
Sue Hrim
, and
Matt Little
are launching a new consumer health book entitled,
EMPOWERED: Your Guide to Conquering Prediabetes
.
"Prediabetes is a serious medical condition. If left untreated, the condition can worsen and lead to type 2 diabetes, a disease that puts you at risk for dangerous complications such as heart disease, stroke, kidney disease and nerve damage. In fact, long-term damage may already be occurring in your body when you have prediabetes. Reversing the decline in your health is not easy," writes Baurys.
More on S For Story
The authors created this resource guide "to help you take control of your health, stop the progression to diabetes and boost your overall wellness so that you can live a long, healthy, active life."
As the back cover of the book reads, "EMPOWERED is a physician-designed, comprehensive program includes in-depth analysis and personalized treatment planning, state-of-the-art body monitoring, nutritional supplementation, and an advanced nutrition plan to optimize your health."
Book Information:
Title: EMPOWERED: Your Guide to Conquering Prediabetes
Authors: Bob Baurys, Alan Hopkins, MD, Sue Hrim, and Matt Little
Recipe photography credit: Melanie Grizzel
Publisher: 83bar, LLC (
http://www.go83bar.com/
)
Second Edition Paperback ISBN: 978-1-6885954-7-7 (
https://www.amazon.com/dp/1688595473/ref=cm_sw_...
)
Pages: 372
Published: February 2020
Available on Amazon: $59.98 USD
About Bob Baurys:More on S For Story
Bob Baurys is a CEO, founder, advisor, and investor in health care, technology, and service sectors. Bob currently operates 83bar, LLC (
http://www.go83bar.com/
). He has provided leadership and strategic guidance to Texas Metabolic Centers, Replenish Hydration, Optimal Thyroid Program, and PreDiabetes Centers PATHFinder Program (on which this book is based). His focus is technology-enabled health and wellness. Baurys is a thought leader and frequent speaker on cutting-edge health care consumer concepts. He is also the author of PATIENT ACTIVATION: The 4 Steps to Move Health Care Consumers from Awareness to Activation. (
https://www.amazon.com/Patient-Activation-Prove...
)
Source: 83bar, LLC
---
0 Comments