S For Story/10571792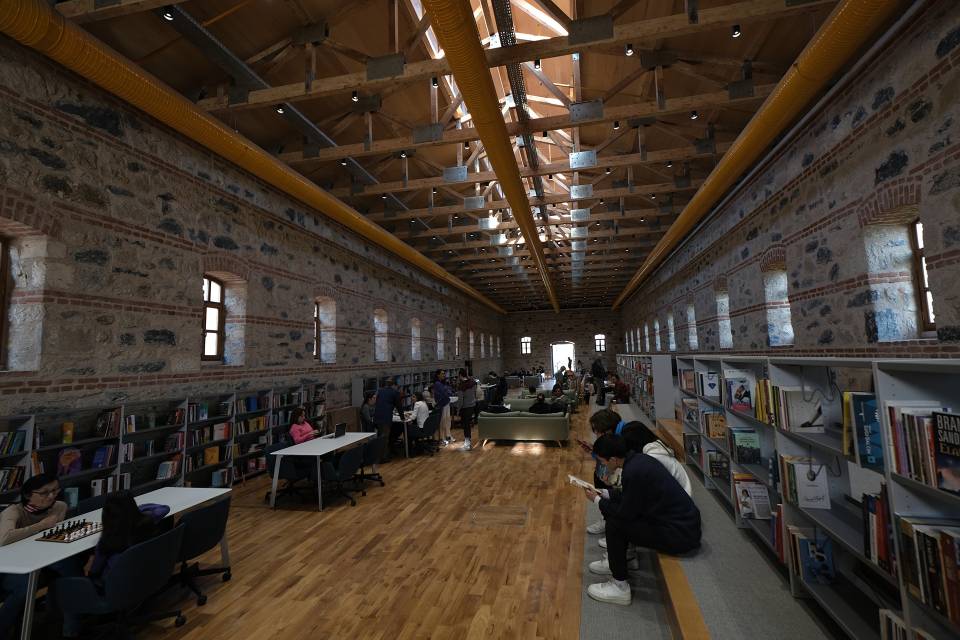 The Ministry of Culture and Tourism welcomes visitors to the Rami Library. Located in Eyüpsultan, İstanbul, the Rami Library is set in the former 18th-century Rami Barracks.
DUBAI MEDIA CITY, UAE
-
s4story
-- Following restoration, renovation and construction activities carried out following the original structure and materials, the Rami Library became the 'largest library in İstanbul' and is amongst the few leading libraries in Europe possessing its distinctive features.
The Rami Barracks campus has a seating capacity of 4,200 people, and numerous sections, including a baby and children's library, a digital library, a youth library, an adult library and various specialized libraries. To provide modern library services, the complex also includes 24-hour study and reading rooms, a baby and child's section, an accessible section, and group and individual study halls. Featuring a closed area of 36,000 m² and a capacity of 2.5 million volumes across 220 decares, the library's landscaped area of 51,000 m² makes it the 'library with the largest indoor landscape area' in Europe. In addition to this expansive green space, the Rami Library has a 1,000 m² artificial pond surrounded by trees.
More on S For StoryThe first complex in Türkiye to receive a Sustainable Museum Certificate
The Rami Library also holds Türkiye's first 'Biosphere Sustainable Museum Certificate'. The Library received the Biosphere Sustainable Museum Certificate, a tourism sustainability certificate, in recognition of its full compliance with sustainability principles in every aspect, including restoration techniques and infrastructure systems, a structure that supports local cultural life, and a new green living space for visitors. In addition, the Library is a platform by which ancient resources and information are carried to future generations.
İstanbul's
'
Living Library'
The Rami Library was brought to İstanbul in a manner designed to meet the cultural, educational and artistic needs of society within the concept of a "
living library
" and within the scope of the modern librarianship concept. The library will provide a "
brand new library experience
" to visitors of all ages with its diversity. The
Atatürk Studies Specialization Library
, inside Rami, will become the largest Atatürk specialized library in Türkiye. This section presents a rich collection consisting of more than 20,000 books serving researchers and readers working especially in the fields of social and human sciences, along with works related to the history of the Republic of Türkiye, Turkish language and culture, especially the history of Atatürk.
More on S For Story
Website:
www.ramikutuphanesi.gov.tr/en
Source: Turkiye The Ministry of Culture and Tourism
---
0 Comments