S For Story/10605872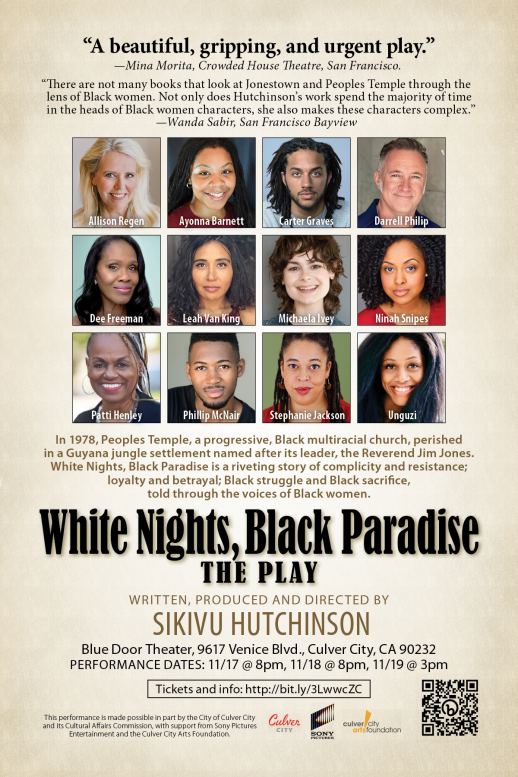 CULVER CITY, Calif.
-
s4story
-- Forty five years ago, on November 18, 1978, over 900 members of the Peoples Temple, a predominantly Black church with Pentecostal origins, died in a Guyana jungle settlement named after the church's white founder, the Reverend Jim Jones. On that fateful day, U.S. Congressman Leo Ryan was murdered after attempting to investigate the church, while Jonestown members died from a toxic combination of cyanide and Flavor-Aid administered by the church's leadership. Nearly seventy percent of those who died in the Jonestown massacre— the largest murder-suicide in American history—were African American. The majority of these victims were African American women. Yet, there have been few literary portrayals of Peoples Temple and Jonestown that center Black women in a religious movement which once played a pivotal role in progressive California politics. Running at the
Blue Door Theater in Culver City from November 17-19
, Sikivu Hutchinson's provocative stage play,
White Nights, Black Paradise
offers a corrective to this historical oversight. Pushing back against the "psycho cult" cliches that have dominated representations of Jonestown, the play focuses on the racial politics, gender politics, and Black social history of the Jonestown "era" as seen through the eyes of multigenerational Black women characters from all sexual orientations and professions. The diverse cast of
White Nights, Black Paradise
features Ayonna Barnett, Dee Freeman, Carter Graves, Patti Henley, Michaela Ivey, Stephanie Jackson, Phillip McNair, Darrell Philip, Allison Regen, Bob Rumnock, Ninah Snipes, Unguzi and Leah Van King.
More on S For Story
Writing about the play in her review for
Alternative Considerations of Jonestown
, Darlene Anita Scott notes, "Hutchinson's narrative lays bare the specter of racism and sexism that intersects in these women's lives, and informs the ethos of the West Coast, illustrating a fuller picture of what might've drawn Black women to Peoples Temple. She also feeds the viewer's hunger for an answer to the question: what led Black people to the follow a charismatic but still white spiritual leadership?"
The November 17-19 production is supported in part by a grant from the
Culver City Cultural Affairs Commission
, Sony Pictures and the Culver Arts foundation.
Tickets and Information at Eventbrite
https://bit.ly/3PDtfYb
Source: Black Skeptics Los Angeles
---
0 Comments