S For Story/10357968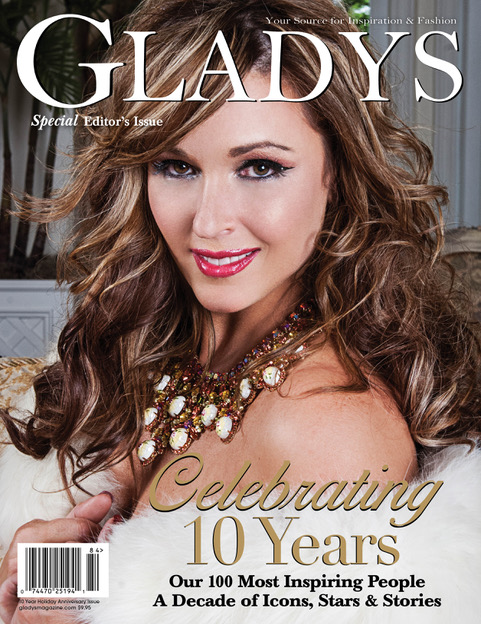 Featuring our 100 Most Inspiring People! A Decade of Icons, Stars & Stories!
CONNELLSVILLE, Pa.
-
Nov. 7, 2018
-
s4story
-- From Miss Pennsylvania to Magazine Publisher, Andrea Patrick Forte graces the Cover of this issue of Gladys Magazine, the magazine that she created a decade ago in honor of her Mother Gladys Patrick.
She invites you to join in the celebration of our 10 Year Anniversary of Gladys Magazine with this very Special Editor's Issue on stands Nationwide!
"I've been asked by so many of you throughout the years why I never graced the cover of my own magazine.
Your comments have always been so encouraging and kind.
However, I never wanted Gladys Magazine to be all about me, but rather it was designed to be all about YOU!
When finalizing this Special Collector's Issue and seeing the layout with all of our flashback pages from the past decade, my staff encouraged me to put myself on this 10th Anniversary Cover. Our Mission Statement is "A magazine dedicated to anyone who has been Inspired to pursue their dreams by someone they love". I was inspired by my Mother Gladys and I have enjoyed featuring people who are inspiring to our readers.
More on S For Story
Inside this issue we have named our 100 Most Inspiring People whom we have featured throughout the past and to say thank you to so many who we have worked with and who have inspired our readers. Our List includes TLC's Monte Durham (Fashion Director), Fabian Forte, Andrea's husband
and (Managing Director), Erika Jayne, Martha Stewart, Ivanka Trump, Kendall Jenner, Bethenny Frankel , Jennifer Lopez, Tiffany Haddish and so many more!
In the past 10 years, we have been honored to cover NYFW, Milan Fashion Week and this past year Paris Fashion Week. We have been included in the Gift Bags at
The Screen Actors Awards, received The Silver Award at the 2014 Print Excellence Awards for our 2013 Holiday 5 Year Anniversary Issue and have sponsored charitable organizations throughout the country.
Gladys is a quarterly, high end, luxury lifestyle, inspirational magazine showcasing the best of haute couture, jewelry, celebrity & exclusive events.
Gladys Magazine is dedicated to anyone who has been inspired to pursue their dreams by someone they love.
Gladys can be found at upscale booksellers, sophisticated retail outlets and select newsstands throughout the country & can be viewed online at
www.gladysmagazine.com
Source: Gladys Magazine
---
0 Comments