S For Story/10595655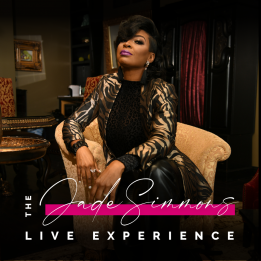 The Jade Simmons Experience Live Tour "Up Close and Purposeful" Coming to Austin!
AUSTIN, Texas
-
s4story
-- Austin, Texas, readies for The Jade Simmons Experience LIVE ™ Tour: Up Close and Purposeful. This internationally sought-after unicorn, named one of the
Best of South by Southwest,
and one of the nation's
Top Motivational Speakers
(BigSpeak), is no stranger to big stages where she serves as Purpose Whisperer to some of the world's most renowned brands. A long time Texas resident, she's proudly kicking off her first public tour in more than a decade in her own backyard.
Acclaimed creator of mind-blowing transformational experiences, and author of
Purpose the Remix
, Jade spent the first few years of her career performing as a classical concert pianist. She's a graduate of Rice University's Shepherd School and was named
Best Arts Ambassador
by the Houston Press. Following an artistic epiphany, she pivoted from playing the piano to impress audiences, to using the piano as the vehicle to provide inspiration, entertainment, and transformation that profoundly moves them instead.
More on S For Story
The Yamaha artist, called a "musical force of nature", has spent the last few years making a name for herself in the corporate world by cooking up an uncommon combination of inspiration, information, and entertainment. Companies including the likes of NBC Universal, Deloitte, MOD Pizza, and Quickbooks, bring her in to power up their people. But until now, these seriously high-energy, genre-bending inspirational concert adventures have been closed to the public.
Come October 2023, all of that changes as Jade takes
The Jade Simmons Experience
on the road. Audiences can expect an intimate, interactive, up close-and-personal experience where music and mic-dropping motivation intersect powerfully to deliver transformational entertainment.
Jade says: Come ready to get your whole life! I always tell audiences to bring all of themselves to every table, every single time and I'm so excited to be able to do that for them in this new experience. I'm breaking out all the magic, all the music, and all the momentum for the audiences who want it most!
More on S For Story
The Jade Simmons Experience
is appropriate for all ages, recommended for those who enjoy adventurous music, powerful personal interactivity, and inspirational content. Join us on Saturday, October 28th, 2023, 7:00 PM, at one of Austin's trendiest venues,
St. John Studios
nestled in the heart of North Austin. Space is limited by intention, get your tickets today at
jadesimmons.com/live-tour.
In the meantime, follow Jade on Instagram @jadesimmonslive for engaging behind the scenes content as the artist/wife/mommy/CEO prepares to hit the road.
Source: Jade Media Global
---
0 Comments