S For Story/10470984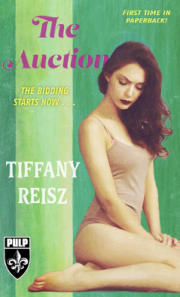 Tiffany Reisz's romance catalog is getting a vintage makeover beginning this March. 8th Circle Press is debuting the "Original Sinners Pulp Library," a spin-off of her million-plus selling Original Sinners series.
LOUISVILLE, Ky.
-
s4story
-- Each of the 4 titles in the Original Sinners Pulp Library can be read as a standalone, which sets this spin-off apart from Reisz's 9-book main series (published by Harlequin and 8th Circle Press). The Original Sinners series follows the exploits of Nora Sutherlin, a romance writer who moonlights as the infamous dominatrix "Mistress Nora."
The painted covers for the new series were designed by Reisz's husband,
New York Times bestselling author Andrew Shaffer
. The covers are modeled after pulp mystery and romance paperbacks from the mid-20th century.
"Since this is the first time the books will be available in print, Tiffany wanted to do something a little different to make the paperbacks special," Shaffer says of
the retro pulp covers
. "They're throwbacks to a time when books like this would be sold wrapped in brown paper."
More on S For StoryThe Auction
is being offered for sale for the first time. The other three titles—
The Mistress Files, The Last Good Knight, and Immersed In Pleasure/Submit To Desire
—
were originally issued as ebooks by Harlequin, and are now making their print debuts with 8th Circle Press as mass-market paperbacks.
The first book
(The Mistress)
is out this week, with additional titles following every five weeks. To buy or pre-order, visit
www.tiffanyreisz.com
,
Bookshop.org
, or hit up your local bookstore or library.
Tiffany Reisz
is the
USA Today
bestselling author of the Original Sinners series, including the RT Book Reviews award-winner
The Siren
and the Romance Writers of America RITA®-winning
The Saint
. She lives in Louisville, Kentucky.
8th Circle Press
is a Kentucky-based small press specializing in women's fiction and romance, and an imprint of 8th Circle. For more information, visit 8thcircle.com.
Source: 8th Circle Press
---
0 Comments