S For Story/10554644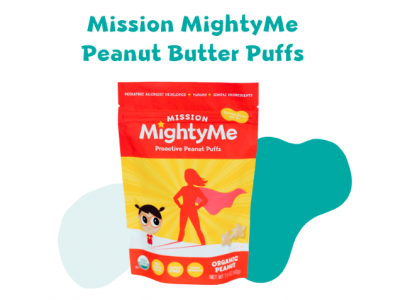 Mission MightyMe's newest resource is an in-depth guide on the potential benefits of peanut puffs and how they can help families follow the updated guidelines for peanut allergy prevention.
ATLANTA
-
s4story
--
Mission MightyMe
, the baby and kids' snack company on a mission to end the food allergy epidemic, just published an in-depth guide on food allergy stats and trends, the latest allergen introduction guidelines, and how
peanut puffs can be a helpful tool for including peanuts in children's diets early and often, as feeding guidelines now recommend
. The new resource explores the evolving science behind food allergies, as well as strategies for reducing the risk of developing food allergies.*
In the last couple of decades, food allergies in children in the U.S. have risen by 50%, while nut allergies have
tripled
. Today, roughly 8 percent of American children have a food allergy compared to much lower rates in
other countries
. There are many factors at play, but one difference between the U.S. and those other countries is that for the past two decades, the standard medical advice in the U.S. was to avoid feeding babies potentially allergenic foods like peanuts, whereas they have long been a common part of the diet in other parts of the world.
More on S For Story
Roughly two decades ago, the American Academy of Pediatrics instructed parents to avoid giving high-risk children peanuts and other potentially allergenic foods until they were at least 3 years old. While the AAP withdrew the recommendation in 2008, avoiding peanut foods in infancy remained common practice.
In 2015, the groundbreaking Learning Early About Peanut Allergy (LEAP) Study, led by pediatric allergist and Mission MightyMe co-founder
Dr. Gideon Lack
, found that introducing peanut foods in the diet of high-risk infants in the first year of life – and consuming them consistently until age five – reduced the rate of peanut allergies by up to 86%. Based on the LEAP Study results, infant feeding guidelines have changed around the globe to encourage early allergen introduction, particularly for peanuts. The American Academy of Pediatrics recommends starting peanut foods as early as 4-6 months, but advises that high-risk infants (with severe eczema or egg allergy) consult with a physician first.
However, since peanuts and peanut butter can be a choking hazard, feeding them to babies poses a challenge. Mission MightyMe provides a solution by making it deliciously simple for parents to follow updated feeding guidelines for including peanuts and other common food allergens in little diets, early and often, with yummy and nutritious organic peanut puffs.
With just a few simple ingredients,
this tasty, science-backed snack
is ideal for babies starting solids and up. The quick-dissolve puffs can be enjoyed multiple ways (softened with water or breast milk for 7 months and younger, crumbled into a puree, or enjoyed as an on-the-go snack) depending on a child's age and stage. To learn more about the power of Proactive Peanut Puffs, check out Mission MightyMe's
latest blog post
and
shop today
.
More on S For StoryAbout Mission MightyMe
Mission MightyMe is the healthy baby and kids' snack company on a mission to end the food allergy epidemic. With convenient, simple, tasty and nutritious science-backed snacks, Mission MightyMe empowers parents, making it easy to follow the latest pediatric feeding recommendations for early allergen introduction. Two products – Proactive Peanut Puffs and Proactive Nut Butter Puffs (with peanuts and multiple tree nuts) – are now available, with more in development.
Mission MightyMe was co-founded by food allergy parents JJ and Catherine Jaxon; Dr. Gideon Lack, world-renowned pediatric allergist and lead author of the groundbreaking LEAP Study; and Todd Slotkin, Food Allergy Research & Education (FARE) co-founder. The Atlanta-based brand gives back by supporting food allergy prevention research and education, and by donating product to help food insecure families have access to healthy food and food allergy prevention. Mission MightyMe was one of Fast Company's 2021 World Changing Idea Finalists. Products can be found at www.missionmightyme.com and on Amazon.
*FDA HEALTH CLAIM: For babies with an increased risk of peanut allergy (babies with severe eczema, egg allergy or both), introducing age-appropriate, peanut-containing foods as early as 4 months may reduce the risk of developing a peanut allergy. Caregivers should check with the baby's healthcare provider before feeding the baby peanut-containing foods.
Source: Boulder SEO Marketing
---
0 Comments