S For Story/10448234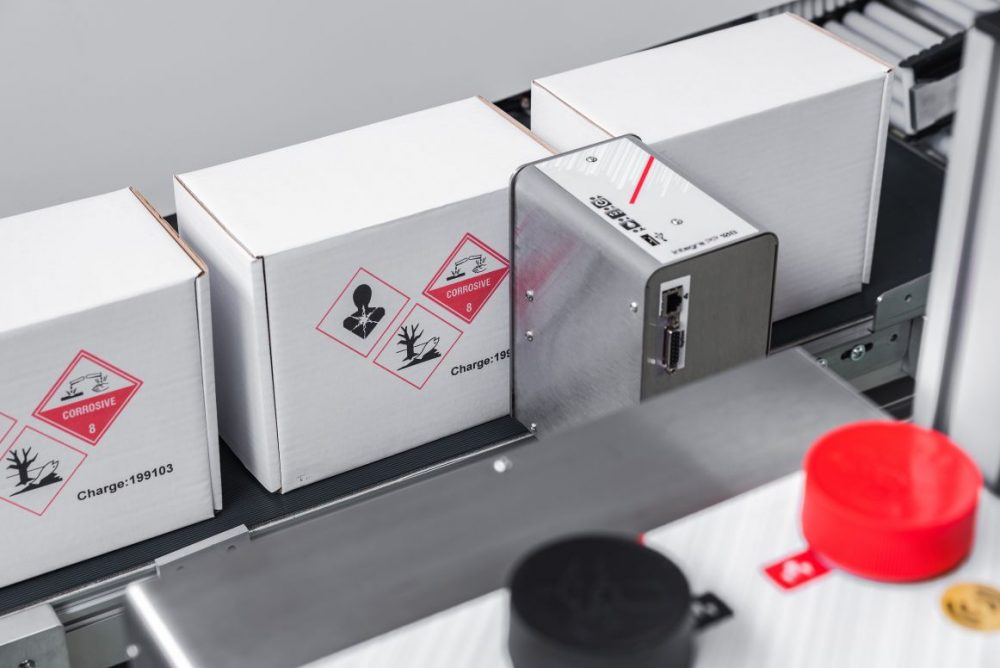 MAHWAH, N.J.
-
s4story
-- Today, AT Information Products announced the launch of the Markoprint® Integra PP108 Bicolor inkjet printer to help packaging operations print two-color messages on porous packaging materials. The system utilizes a 4.25-inch tall Seiko industrial printhead to deliver seamless graphics, barcodes and alphanumeric text.
"Manufacturers and co-packers have struggled for years to produce high-resolution codes on their shipping cases and building products," said Jeff Norton, Business Development Manager, AT Information Products. "Newer requirements to add warning labels on shipping cases drive-up costs and slow down the packaging process, but we have a compelling solution."
The Markoprint® Integra PP108 Bicolor coder provides unique value to the industry. In addition to printing barcodes and text, the new system allows for the printing of hazard symbols and logos in two colors. The black and spot color red inks are jetted from different nozzles on the same printhead in one pass, and there's no need for stitching of smaller printheads.
Keep packaging lines running and reduce overall costs
The Markoprint® Integra PP108 Bicolor offers manufacturers and case packers a host of advantages which are simply not available from other print solutions on the market:
Fast Production Speeds - Integra PP108 Bicolor keeps up with the speed of production. The system runs 480 fpm at 360 dpi and is adjustable based on customer requirements.
High Resolution Codes - Integra PP108 Bicolor prints high quality logos and hazard symbols in one pass, eliminating the need to apply expensive labels. The readability of barcodes is superb when running at 180 dpi or higher.
Clean & Green Inks - Keep your production area free from spilled ink and noxious fumes. Integra PP108 Bicolor uses mineral oil free fluids that are eco friendly.
Quick Changeovers & Start Up - Integra PP108 Bicolor starts up in less than one minute. There's no priming, no heating up, and no purging necessary. When changing ink supplies, the coding system continues to print while the 700ml ink tanks are refilled.
Vibration Resistance – Vibration does not affect the Integra PP108 Bicolor. The system is shock resistant and not prone to de-prime.
Easy Maintenance - The combination of the recirculating ink system and the Seiko print engine makes Integra PP108 Bicolor a robust solution. If downtime is a concern, Integra PP108 Bicolor is the answer.
Variable Installation Height - No need to worry about proper ink system placement. Integra PP108 Bicolor prints horizontally or vertically with no change to the ink system's installation height.
Total Cost of Ownership – The total cost is a function of hardware, ink supplies, maintenance / service, and labor. Taking all of these into account, Integra PP108 Bicolor is a logical solution for manufacturers and co-packers to consider.
Best applications for Markoprint® Integra PP108 BicolorMore on S For Story
Customers in need of printing hi-res codes - in mono color or two color - up to 4.25-inches tall on corrugate are ideal customers for Integra PP108 Bicolor. This includes manufacturers in Food & Beverage such as wine, liquor, and produce, Consumer Goods, Pharmaceuticals, and more. Integra PP108 Bicolor prints impressive GS1 application identifiers including linear and 2D barcodes, so manufacturers stay in compliance with large retailers.
Another good fit for Integra PP108 Bicolor is the building products industry. Manufacturers printing large messages on lumber, sheetrock, and paper sacks can utilize the 4.25-inch printheads to mark their products with precision and best quality.
See the Markoprint® Integra PP108 Bicolor in action at
https://youtu.be/m0ER1iDEHSY



About AT Information Products
For 40 years, AT Information Products has been offering a comprehensive line of high-performance inkjet printing solutions for package coding applications, backed by extensive industry expertise. By remaining in lock-step with printing and packaging trends, AT Information Products delivers solutions that meet today's requirements for cleanliness, low emissions, ease of use, and general environmental sustainability. The AT Information Products local support teams and certified distributors can help customers install, use, and maintain the printing and packaging systems that best meet their needs. See
www.atip-usa.com
, or call
(201) 529-0202
.
More on S For Story
Source: AT Information Products
---
0 Comments