S For Story/10578817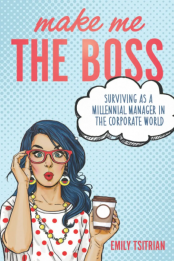 Sound management advice in the age of Millennial leaders, this book takes home a top prize in the annual Reader Views Literary Awards program.
AUSTIN, Texas
-
s4story
-- Reader Views announces
Make Me the Boss
by Emily Tsitrian, as one of the overall grand prize winners in non-fiction. Tsitrian's book takes home the bronze award, an award honored with a cash prize and special marketing promotions.
Make Me the Boss
comes at the perfect time, with the working population of the Millennial generation, smack dab in the middle of their thirties and entering a point in their career where they are likely seeking or have recently acquired a management position. Having had trouble finding books tailored to help her in her own experiences as a first-time people-leader, Tsitrian decided to use her successes and failures to craft her own inclusive guide to help others where she struggled.
More on S For Story
Jill Rey with Reader Views says of
Make Me the Boss
,
"
This easy read is jam-packed with targeted knowledge, helpful guidance, and successful career advice, rolled into the guise of being delivered by a friend and trusted confidant. Tsitrian nails management advice, playing to her audience through the use of creative memes, non-traditional career advice, and a re-write of the outdated corporate career ladder… this should be the FIRST read you pick up as you accept or consider a promotion to a manager's role."
Emily Tsitrian says of winning this award, "We're witnessing a huge shift in workplace dynamics as the Millennial generation transitions into leadership roles after having come of age during some of the most tectonic shifts in technology. I wrote this book to meet the moment head-on, and this award is an incredible honor and validation of the amazing work people-managers do every day to elevate their teams."
More on S For StoryMake Me the Boss: Surviving as A Millennial Manager in the Corporate World
(ISBN 978-0578971834, Mar Chiquita Publishing, 2022) is available at online bookstores.
Emily Tsitrian
uses her management superpowers to give advice to up-and-coming managers on how to be successful, confident leaders who live their values in the workplace. Her mission is to empower other managers to become leaders that make a difference, both in and out of the boardroom. Learn more at
https://emilytsitrian.com/
.
The Reader Views Literary Awards
program levels the playing field for self-published authors, recognizing the most creative and exciting new books in the industry. The program is known industry wide as one of the most respected literary awards programs for independent authors. Top honors include cash prizes totaling $2,500. For more informationvisit:
http://www.readerviews.com/
.
Source: Reader Views
---
0 Comments