S For Story/10514899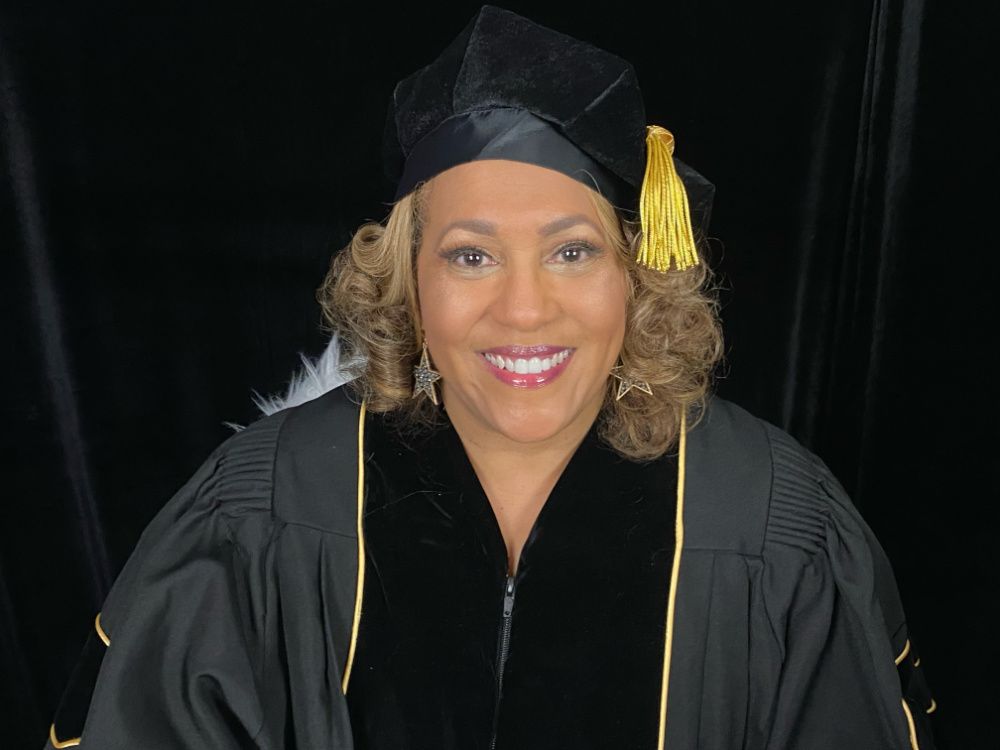 United Graduate College and Seminary International awarded the Honorary Doctorate to Perry Recognizing Her 30-Year Body of Work in the Public Relations Industry
DETROIT
-
s4story
-- Career Publicist and publisher of
Speakers Magazine,
Pam Perry, has been awarded an Honorary Doctorate Degree of Philosophy in Humanities for her 30-year body of work in the public relations industry.
Perry is a ministry marketing pioneer and PR expert in the African American Christian market. Her public relations and media career spans over three decades. She spent the first ten years working with nonprofits, PR firms, broadcast stations, and of course, many print publications.
She has dedicated the past 20 years to marketing ministries for authors and speakers like TD Jakes, Bill Winston, Dr. Cindy Trimm, Nicole Roberts Jones, and Dr. Patricia Bailey, and hundreds of other seasoned speakers.
Her company,
Ministry Marketing Solutions Inc.,
has a roster of some of the most well-known Christian publishers and African American Christian speakers and authors in the industry. Her mission is to help others shine online like a superstar and to brand their best life. She also penned the groundbreaking book,
Synergy Energy: How to Use the Power of Partnerships to Market Your Book, Grow Your Business and Brand Your Ministry.
"I believe that my clients are called and anointed to bring a message to the masses. My assignment is to help them market the message - online and off," said Perry.
United Graduate College and Seminary International (UGCSI)
, which awarded the degree to Perry, was founded in 1982. It is an online international education institution with over 80 countries represented. They offer various non-traditional, online, and Biblical ministry certificates and degrees including Pastoral Ministry, Ambassadorship Diplomacy, Christian Leadership, Biblical Counseling, and Innovative Leadership.
More on S For Story
"We promote the Culture of Honor through Honorary Degrees in Humanities based on skills and philosophy, which we bestow upon highly esteemed individuals like Pam Perry who have devoted their life's work to the betterment of humanity," said
Professor Clyde Rivers, who is the Chief Chancellor of UGCSI
. This institution is accredited through the Worldwide Accreditation Commission of Christian Education Institutions.
"This degree recognizes the passion I have for my work over the course of more than 30 years in this industry," Dr. Perry says, "having promoted and mentored more than 4,000 speakers and authors as private clients, programs, or my podcast training."
Dr. Perry is a leader in the podcasting space, she is the founder of the National Association of Black Podcasters, and her podcast,
"Get Out There and Get Known"
is heard on every podcast platform from Spotify to Apple Podcasts to iHeart Radio.
Her magazine, Speakers, has been awarded the top magazine for Speakers by SpeakerCon in 2019. Dr. Perry is on a personal mission to help Black speakers and authors grow their brand to next-level exposure. "My number one priority is to expose my clients to a bigger platform through media, cutting-edge marketing, and clarity messaging so they can get the visibility and credibility they deserve," said Perry.
Speakers Magazine
has featured, over the years cover, stories on Dr. George Fraser, Les Brown, Dr. Will Moreland, Rushion McDonald, Stephanie Mills, Dr. Cindy Trimm, Ed Gordon, Dr. Del McNeal, Dr. Cheryl Wood, Dr. Stacie NC Grant, Bishop Vashti McKenzie and countless other amazing speakers.
More on S For StoryPerry's core teachings center on how to develop a brand
- so speakers can get out there and get known. She works with a small cohort twice a year in her
Branding Accelerator Program.
"I also want to help emerging speakers, so I created a membership program called
READY SET GO SPEAK!
so that they can cut their learning curve and have access to me to learn the foundational methods of public relations, publishing, podcasting, and platform building.
In addition, just recently, Dr. Perry was selected by
Core Magazine
as one of the 100 Most Influential Blacks Today, and
Connected Woman Magazine
named her a
"Powerhouse Maven."
This publicist and branding strategist is known as the PR Angel because she helps her clients manifest media. "When you do what you love and get recognized for it - it's truly a blessing from God," said Dr. Perry. She offers a free ebook on how to "Be Heard and Get Out There" on her website at
pamperrypr.com/ebook
.
About Ministry Marketing Solutions, Inc. (MMS):
MMS works with organizations, nonprofits, speakers, authors, coaches, and filmmakers to help them increase their credibility and visibility through media, digital marketing, podcasts, and publications. Notable clients of the Speakers Magazine brand include Dr. George Fraser, Les Brown, Dr. Will Moreland, Rushion McDonald, Stephanie Mills, Dr. Cindy Trimm, Ed Gordon, Dr. Del McNeal, Dr. Cheryl Wood, Dr. Stacie NC Grant, Bishop Vashti McKenzie, and countless other amazing speakers.
Source: MMS News
---
0 Comments