S For Story/10557002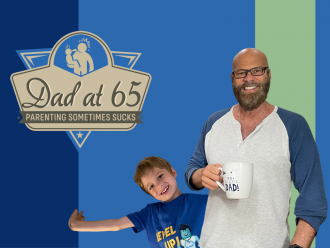 UKW MEDIA Instagram Live with James Dudelson Host of 'Dad At 65'
LOS ANGELES
-
s4story
--
UKW MEDIA
brings you great
FREE
multicultural family entertainment on ROKU, Amazon Prime, and YouTube!
Join Our Instagram LIVE Q&A's [@ukwmedia]
Thursdays @ 7 PM ET/ 6 PM CT/ 5 PM Mountain/ 4 PM PT

Thursday, September 29, 2022 – James Dudelson
, host of "
Dad At 65
" explains the Jewish holidays, Rosh Hashanah and Yom Kippur, introducing religion to his son, and some of their family traditions, especially breaking the fast after Yom Kippur. Join us
@ukwmedia
on Instagram!
In
'Dad At 65,'
Dudelson shares his own hilarious parenting experiences and dispenses parenting tips, always served with a big dollop of humor. From giving kids allowance to giving them fast food, '
Dad At 65
' does not disappoint!
'
Project Runway
' watch out, here comes '
Tati's Fashion Show
'! Watch Angelight Films' uplifting '
Tati's Fashion Show
' on UKW Media now! Tati is undergoing treatment for a brain tumor, but nothing stops this little dynamo from putting together her very own fashion show! Directed by
Amir Arison
('
The Blacklist
').
More on S For Story
From 09/15/22 - 12/02/22, for every download of UKW Media on Roku, UKW Media will donate $1 to Angelight Films, a non-profit organization that gives children with brain tumors the opportunity to express themselves by creating and starring in their own short film.
UKW MEDIA
has great fresh content for families and kids, as well as classics like 'T
he Beverly Hillbillies
,' '
Bonanza
,' and '
The Lucy Show
.' From animation "Rollercoaster Boy Nori,' 'Southwick Gang Adventures,' and 'Bearabbit Beibei,' to stunning movies like '
Escape From Sobibor
' (
Rutger Hauer, Alan Arkin, Joanna Pacula
) about the daring escape of 600 Jewish prisoners from a Nazi concentration camp during World War II and heartwarming dramas like '
Little Cupid
' (
Cody Calafiore, Allison Mullaney, Stefanie Bloom
) - a Marine dad, missing in action, must make people fall in love in order to get his angel wings.
Sign up for
UKW MEDIA
in the Channel Store on ROKU and JOIN our Instagram LIVE Q&A's [@ukwmedia] Thursdays @ 7 PM Eastern / 6 PM Central / 5 PM Mountain / 4 PM Pacific!
More on S For Story
Free ROKU download:
https://channelstore.roku.com/details/5743774d34ec88a69f4f36023d882e67
Twitter: @ukwmedia / Instagram: @ukwmedia / Facebook: ukwmedia /
YouTube: ukwmedia
# # #
UKW Media
is a multicultural digital streaming channel on ROKU and other platforms, bringing quality family entertainment, curated from around the world, to global audiences.
UKW Media
is a joint venture of Homewood Media Inc. and Trigold Entertainment Inc. UKW Media is the fulfillment of the founders' dream to create channels that appeal to multicultural urban audiences.
Source: UKW MEDIA
---
0 Comments