S For Story/10374352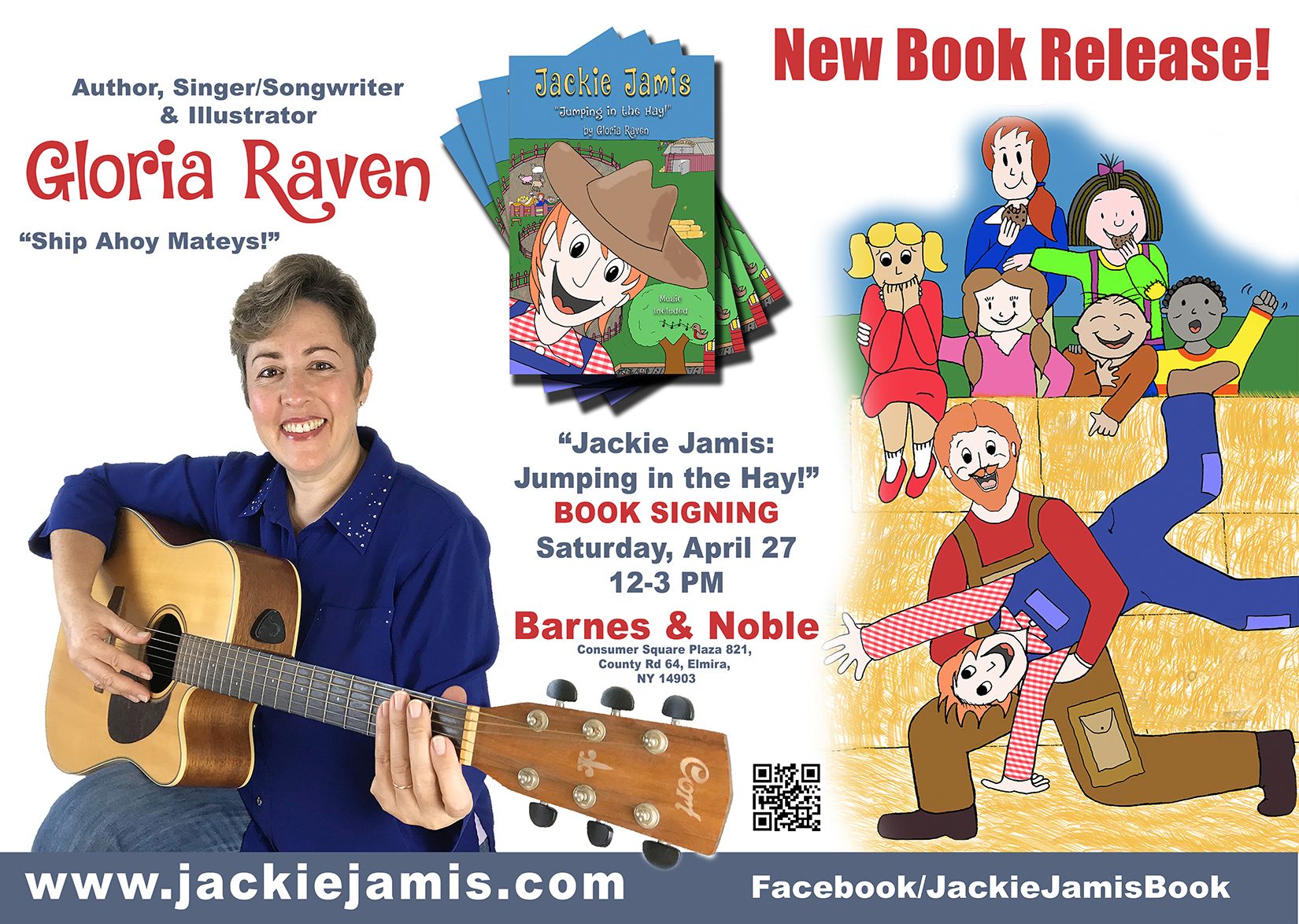 Author, Singer/Songwriter and Illustrator Gloria Raven will release her debut sing-a-long Children's Book "Jackie Jamis: Jumping in the Hay" at Barnes & Noble
ELMIRA, N.Y.
-
April 23, 2019
-
s4story
-- After nearly 2 years of learning, drawing and writing, Author Gloria Raven is releasing her debut children's book "Jackie Jamis: Jumping in the Hay."
This incredible work of a lifetime, has come about at the culmination of 25 years of teaching experience in New York as a certified educator. The Author's 35 years of composing and singing with her guitar, has prompted this book, as the theme song "Jackie Jamis: Jumping in the Hay" was written some years ago.
Having sought out artistic assistance for the illustrations in the book, Gloria Raven eventually decided to illustrate the book herself, as the personalities and the emotions of the wonderful array of characters in the book could only be authentically expressed by the author. It took many months of learning Adobe Photoshop, to then import her sketches and convert them into highly detailed, brightly colored pictures that tell the marvelous story of Jackie Jamis, the star of the theme song and book.
More on S For Story
Children and parents get to sing-a-long and even dance to 'Jumping in the Hay' as the book includes the theme music, as they learn about Jackie, his friends and his excellent character. Jackie Jamis is a great American kid, he is a wonderful son and faithful friend!
Jackie is the anti-bullying role model we have all been waiting for!
Gloria Raven has witnessed tremendous enthusiasm by young children of all ages, even some 7th graders have responded positively to the story of Jackie Jamis and the catchy and hard to stop singing theme song "Jumping in the Hay."
You can visit
http://www.jackiejamis.com
for more information or www.facebook.com/jackiejamisbook
Come out on Saturday the 27th of April, between 12-3 PM to hear Gloria Raven read and sing the story and sign copies of the "Jackie Jamis: Jumping in the Hay" at Barnes & Noble, Consumer Square Plaza, 821, County Route 64, Elmira, New York.(Near the Arnot Mall.)
Gloria Raven's musical talents are also available as an 'Educational Entertainer' for your next birthday party, BBQ, conference, school assembly or other event. Please send an email for more information to mrsravenworld@gmail.com.
Source: Mrs. Raven's World
---
0 Comments