S For Story/10460816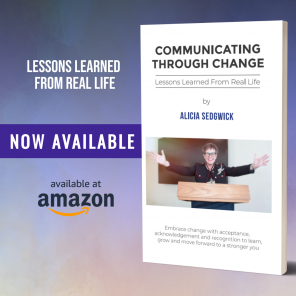 Embrace change with acceptance, acknowledgement and recognition to learn, grow and move forward to a stronger you.
DALLAS
-
s4story
-- This life-changing book will show you how to communicate through major changes in your life and to best express yourself when you need to be heard. It is packed with real-life stories, practical exercises, insightful tips and uplifting affirmations. Addressing relevant challenges, which everyone meets at one time in their life, this book will give you hope, resilience and clarity about how to move forward. By sharing her vulnerability with authentic openness, the author helps you to find your inner strength and to speak up for yourself.
Change Challenges
"
The one thing we can be sure of – in this life – is that there will be change."
Wherever you are in your life, this book provides you with an insight into my life; sharing with you what I have learned and showing you how you can deal with your experiences of change, coming through them with strength and courage. It provides you with practical guidance and applicable exercises to enable you to take conscious actions that will help you communicate your way through a variety of different changes. While the chapters can be read in isolation, the exercises can be applied to more than one change challenge. This book will also help you to understand that you are not alone and whenever you face these challenges, there is support from the insight shared here. Plus, the opportunity to belong to Team Alicia, a supportive group of like-minded people where you are free to be yourself without inhibition, worry, anxiety or fear. Where you will not be judged; you will be nurtured and cared for and what is said and shared in Team Alicia, stays in Team Alicia!
More on S For StoryAlicia Sedgwick
is an expert Communications Coach. She currently teaches at the International University of Monaco and International School of Monaco. She trains corporate clients, associations and individuals internationally, both online and in person.
Alicia has served as Master of Ceremonies for three TEDxMonteCarlo events. She has hosted International Press conferences at the London Olympics; has Talent managed for the BBC in London and for organisations at major events around the world. Alicia has hosted her own Internet TV and radio shows.
She is known globally as The Communications Guru and leads Team Alicia to help people to cope with and share their experiences of change, as well as learn how to express themselves with confidence and power.
Alicia has been through many unexpected and traumatic changes in her life, which she shares in her first book in intimate detail, to help people know that they are not alone and there are ways to embrace change and thrive.
More on S For StoryPurchase Today
:
https://amzn.to/2K7au1B
Source: RABT Book Tours & PR
---
0 Comments